Packaged Wastewater Plants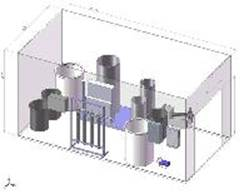 This Pre-engineered Package Wastewater Treatment Plant is a new and unique solution to wastewater treatment. GR8 Water Inc. has taken the solution to water/wastewater treatment to a new level of simplicity, cost-effectiveness, and performance. We use only physical-chemical processes to remove and separate organic solids and produce high-quality water to specifications set by each customer. The systems are pre-engineered into containerized packages that are delivered worldwide for quick and easy plug-and-play installation.
This solution provides unique advantages for end-user customers.
Pre-engineered plants bring production line efficiencies and quality control into the fabrication of wastewater plants.
The pre-engineered plants reduce the significant overhead cost associated with customized engineering services on conventional plants.
The time from start to finish is significantly shortened against conventional design processes allowing expedited delivery of solutions.
The containerized solutions provide easy scalability and modularity for wastewater plants so that they can be sized appropriately for different applications.
The physical-chemical processes that the plant relies on are easier to maintain and less sensitive to upsets than biologically based treatments.
Footprints are smaller, and recovery from upset is measured in hours instead of weeks providing a more reliable service.
With standardized treatment components, the plant can easily be adapted for a variety of industrial effluents or different quality discharge limits for BOD5 and TSS. In addition, plants can be supported by a variety of electrical power inputs, including solar power.
The system is ideal for wastewater treatment in distributed municipal systems, apartments, housing developments, hospitals, resorts, or industrial plants where infrastructure is unavailable or has limited capacity.
The customized packages are all pre-wired with all necessary internal plumbing for the receiving country. Electrical devices are CE, CSA or UL approved, and electrical disconnect panels are already installed. Just connect the power 600/220v, 3, 50/60 Hz as specified. Plumbing connections for incoming wastewater drains and clean water are made with quick connects.
A four container fully-featured municipal wastewater plant processing 47 m3/day (210 GPM) costs about $1,100,000 USD. This is less than half the cost of similar conventional solutions. Packages are roughly $250,000 USD/ container for wastewater systems.
Water Technologies International
GR8 Water & Aqua Pure International